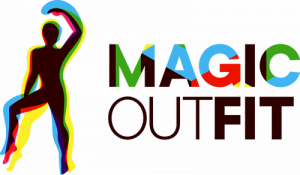 News on the MagicOutFit project
New tool to identify barriers to engage in physical activity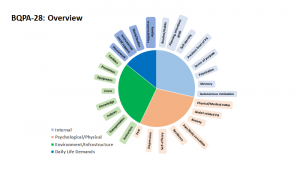 Sergio Navas presents the work called "New evidence of validity and reliability of the Barriers for Physical Activity Questionnaire in a general Spanish sample (BQPA-G). Also in colaboration with Ana Tajadura–Jiménez, Milagrosa Sánchez-Martín, Aneesha Singh, Mercedes Borda-Más, Nadia Berthouze-Bianchi, and Luis Morales Márquez. The work is presented today (July 22, 2021) at EAM2021. We invite you to see this amazing work here!
This Smart Dress Will Play With Your Mind

We invite you to read a fantastic article. Our colleagues Kristi Kuusk, Aleksander Väljamäe, and Ana Tajadura-Jimenez talk about how smart textiles contribute to body sensations and emotional states. Imagine …. to feel more like clouds, more like water or rocks state… through vibrating fabrics!. Read the article at this link.
Social Bridges e-conference: "The near-future of AI: How will humans and AI interact in 5 years?"
Congratulations to Ana! for the presentation of the work "The multisensorial body in a technology-mediated world" organized by Universitat der Bundeswehr Munchen at Social Bridges e-conference, April 21-23, 2021. See the program at this link.
Virtual Journals – SEPEX 2021
We invite you to see the posters of our colleagues Sergio Navas (@Snavasleon) and Judith Ley-Flores (@Judith_Ley), They will share their work tomorrow and will be answering your questions by Twitter, April 20-22, 2021. @SEPEX13
See you on @MagicOutFit!
Symposium on "Technological Bonding"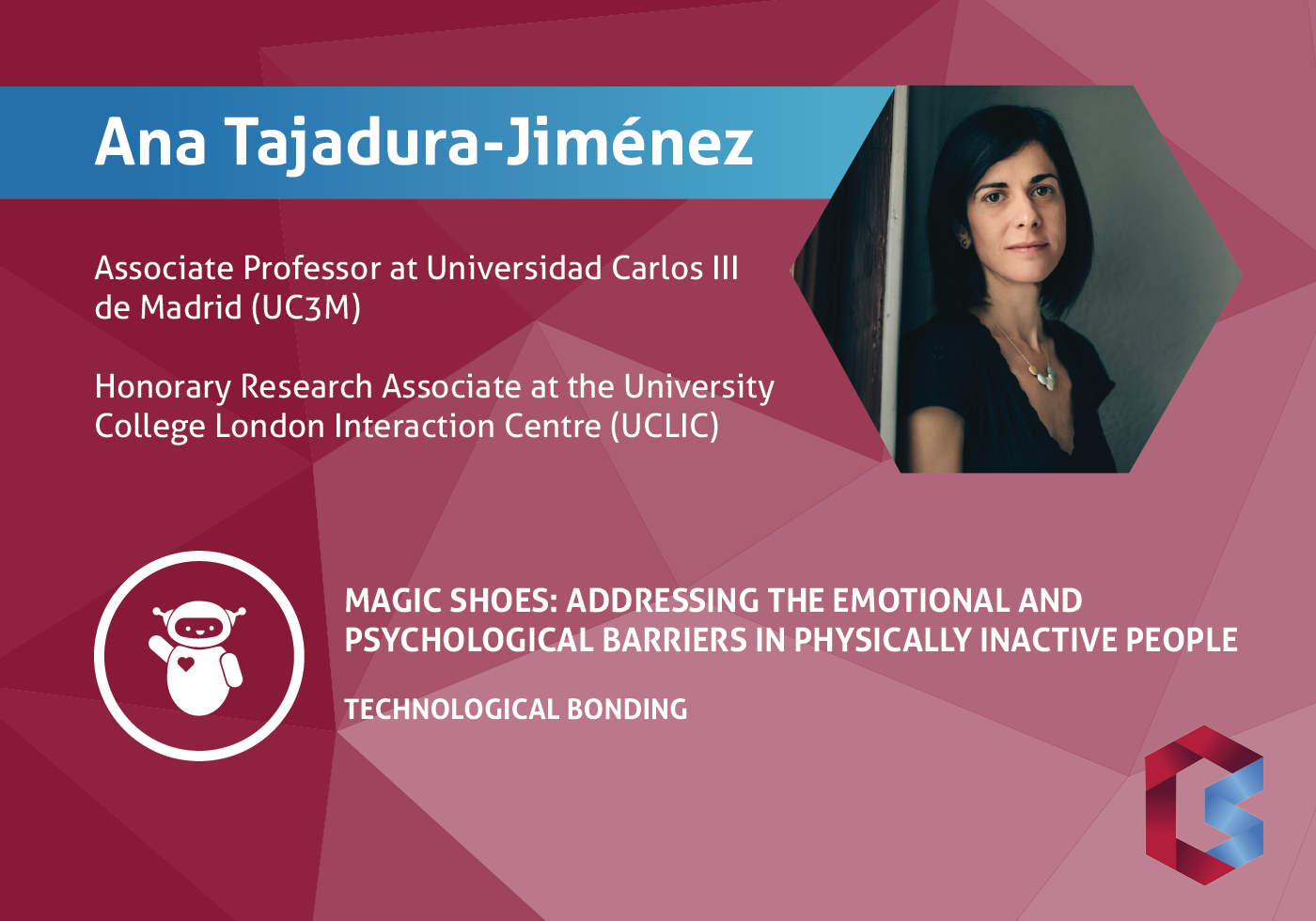 Date: 26th to 28th, March 2021
We are happy to announce the participation of Ana Tajadura-Jimenez in the Virtual Symposium on "Technological Bonding". The symposium's goal is to present to the academic community the most recent and innovative projects with biomedical and biological applications on issues of our modern society. NEB-FEUP/ICBAS XII
TERRAZA - Casa del Lector
Interactive poetry installation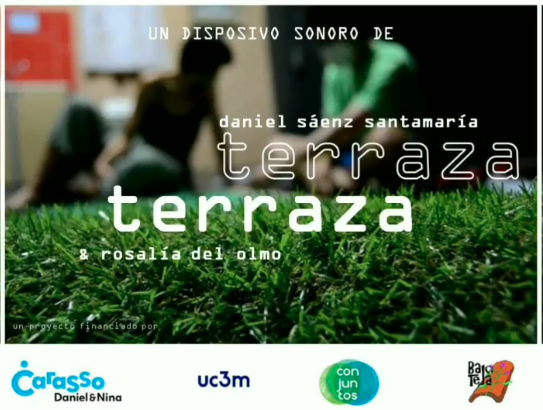 Date: Friday 19 – Sunday 21, March 2021
Free entry
We invite you to celebrate International Poetry Day with this installation that can be visited on the ground floor of Casa del Lector in the Matadero. In addition to the interactive experience, throughout the day there will also be small dance pieces to activate the installation.
* Call for papers
Rethinking the Senses: A Workshop on Multisensory Embodied Experiences and Disability Interactions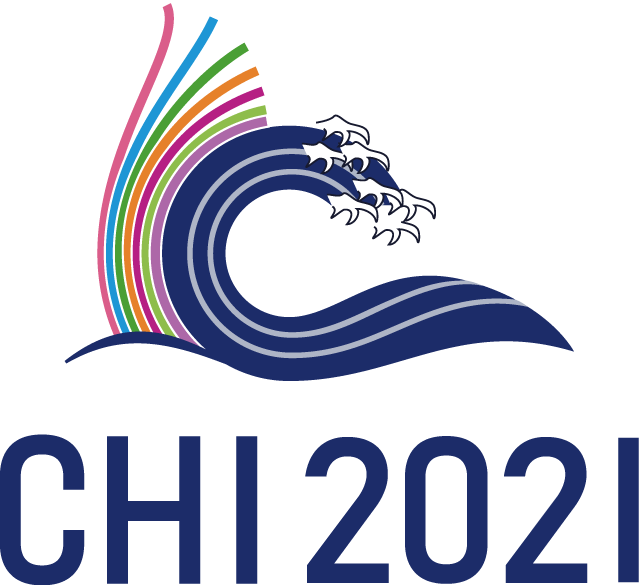 ACM CHI 2021
Friday May 13 – Saturday May 14, 2021 | UTC 1200 – 1500
Submissions deadline: February 21 (23:59 AoE)
Call for Participation
We invite researchers, practitioners, and designers with an interest in creating inclusive multisensory interactions for people of all abilities to submit position papers of up to 4 pages in single-column SIGCHI submission template (including references) stating their existing work, a conceptual design, or their position with respect to the workshop topic. Submissions should also include up to two discussion points and issues that participants would like to discuss in the workshop. We also welcome alternate submissions in the form of presentation slides, design sketches, and posters. Authors must ensure the accessibility of their submission by following the SIGCHI Accessibility Guidelines. See all details here
* Looking for a fully funded PhD student to join the MagicOutFit team. Starting in Summer 2021
If you are interested check the full description
here
and contact us.
Please note that while the position is to start in the summer 2021, the application deadline is September 2020.

Our article was presented at 9th European Congress of Methodology EAM 2020 Virtual Phase – 31 July 2020, by Sergio Navas-León, Ana Tajadura-Jiménez, Patricia Rick, Luis Morales Márquez, Mercedes Borda Mas, Aneesha Singh, Nadia Bianchi-Berthouze, Milagrosa Sánchez Martín.
* 21 Jun 2020 MagicOutFit Kick-off meeting!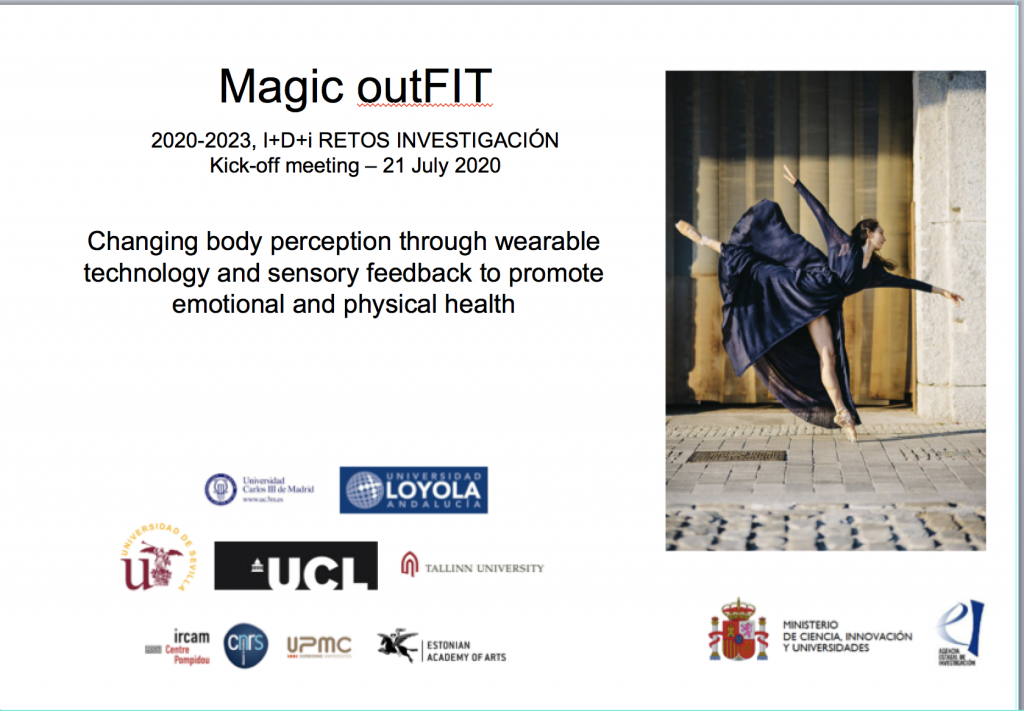 Our fantastic research team!